Hi all,
Quite a few things to tell you about since the last newsletter. Lots coming up in May and June!!
First off, as most of you now know, I recently passed my 1st Dan at the recent KUGB black and brown belt course in Rhyl with Sensei Sherry and Sensei Poynton. Thank you to Sensei Warburton and all the club senior instructors for all their help and support,but I also would like to say a huge thank you to every single RSKC member, I could not have done it without you. Also, thank you to those members who came to the training session in Rhyl, and supported me on the day. Those who took part in the training session found it a very challenging but enjoyable. Highly recommended for all of the 1st kyu's who are working towards their Dan grade.
A few of us are going to the Woolpack for a quick drink after training tonight (9th) to celebrate Sandra achieving her 2nd Dan last year and me achieving my 1st Dan. Everyone is welcome to come along.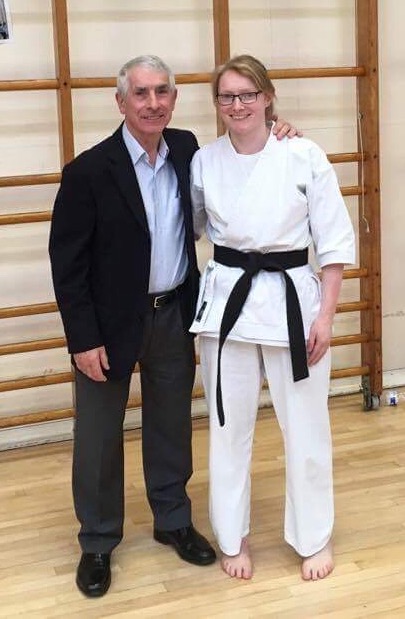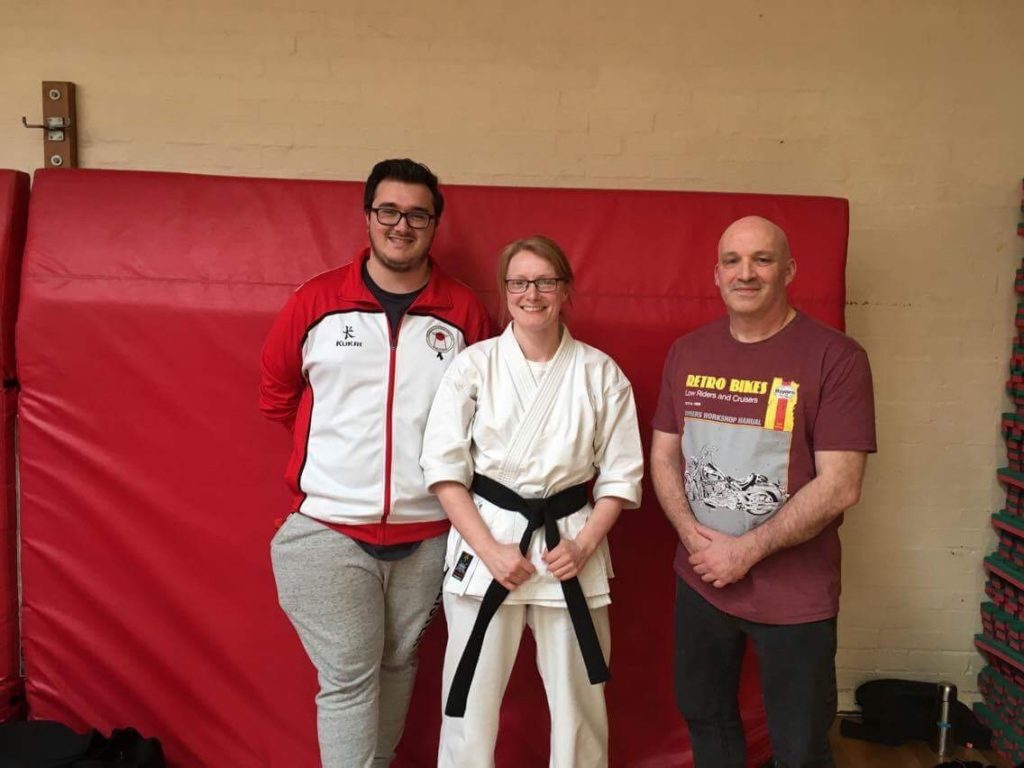 Courses
Sensei Rick Payne and Sensei Doyle attended a tough but rewarding Dan Grade course in Chesterfield on 23rd April. 
Nationals
On Saturday 6th May, Myself, Liam and Joe represented the club at the KUGB Nationals Championships at the Barclaycard Arena in Birmingham. Podium places my have evaded up, but the calibre of competitors was very high and in all our events we were knocked out by either National squad members or eventual medal winners. Liam had a particularly tough draw, meeting eventual kumite winner Ethan Armstrong in the 1st round, and a taking on former national, european and world kata champion Hisham Saif in his kata event!  Excellent day out and a great experience.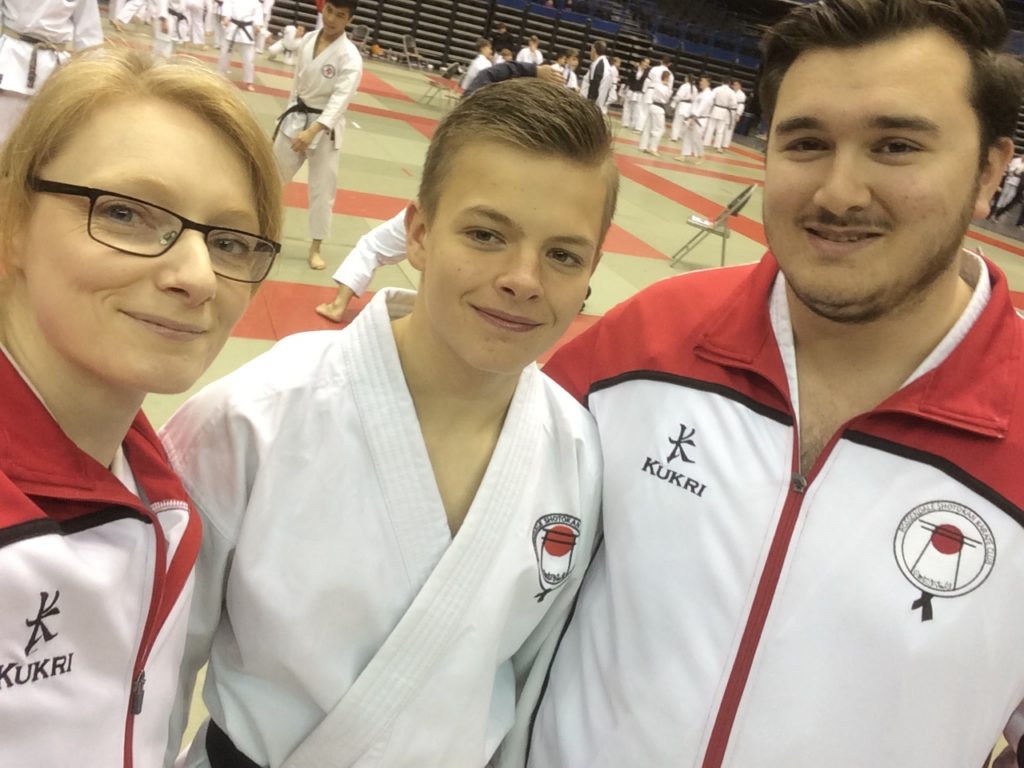 Events
Wednesday 24th May
Hutton Karate Club are hosting a training session for purple belts and above with KUGB senior instructor, Sensei Jimmy Brennan 8th Dan. 7pm – 8.30pm.
Sunday 28th May
KUGB Black and Brown Belt course. This session is only down the road in Manchester. All Black and Brown Belts, in particular 1st Kyu's should be attending theses FREE events. Please see KUGB website for details – Training times will be different depending on your grade.
Sunday 4th June
KUGB Northern Regional All Grades Course with Sensei J Brennan and Sensei J Bruce – Leeds. 11am -12.30pm, then 1pm-3pm. This course is £8
Sunday 18th June
Special Pre-Grade session with Sensei Ian Garside This is currently taking place during normal Sunday training times but we are looking to do a 2nd session 12-2pm depending on the availability of the school.
Wednesday 21st June
Hutton Karate Club are hosting a training session for purple belts and above with senior KUGB Instructor Sensei Gary Harford 8th Dan. 7pm – 8.30pm,
Thursday 22nd June
Grading with Sensei Andy Sherry!! This session will be at Haslingden Primary School 6.30pm until approximately 9pm. We ask that members arrive at the school for 6pm. If you are wanting to grade, please speak to Sensei Stephen Warburton. This session is not just for those grading-everyone is welcome to train with Andy Sherry 9th Dan.
Sunday 25th June
Bacup and Stacksteads Carnival. As in previous years, we will be taking part in the parade. We ask that  ALL club members show their support and are available in the morning for the parade. We will be putting together a demo on the main stage in the afternoon. Again we want as many people as possible to take part in the demo, from the youngest white belts, to the highest Dan grade! There will be something for everyone to do, and then afterwards you can enjoy the rides and candy floss!! We will be having a stall with strike pads for the public to have a go on, and a tombola to help raise money for the club. If anyone has any gifts that would be suitable for tombola prises can you please bring them in for Julie.
Competitions/Squad Training
Sunday 14th May – Squad training 12pm-2pm
Sunday 21st May – Squad training 12pm-2pm
Saturday 27th May – KUGB Liverpool Youth Championships.
Sunday 11th June – RSKC Club competition-this is for RSKC members only. If you have never competed before DO NOT WORRY 🙂 This is a very friendly event and is the perfect way to experience competition and there will be events for everyone. Can those members who won the clubs main trophies last year, please return them.
Saturday 17th June- Hombu Dojo Female Competition, Birmingham. Those of you who attended the ladies event last year will have met Aimee Jo and Danielle from Black County Shotokan Karate Club have extended an invitation to their ladies/girls event. This event is aimed at novices to competition so there will be no competitors who are on a national squad.
Saturday 1st July – KUGB National Youth Championships
Saturday 1st July – AMA All Styles Nationals (Day 1 of 2)
Sunday 2nd July – AMA All Styles Nationals (Day 2 of 2)
Saturday 15th July – Gateshead National Youth Championships-This event is hosted by Sonkei karate club who travel down to Rossendale to support our ICC. We want to return the favour by taking as many people as possible to Gateshead for this event. This is a perfect event for those who are fairly new to competing.
I have entry forms for these events and will be going round taking names for those wanting to compete. We are always looking to having new members competing.
Club jackets.
As you've all probably seen, the club now have their own jackets fabulously modelled by myself and Liam!! There are also matching T-Shits, hoodies and pants available. I'll be at training taking a list of those who would like anything ordering. The first order will be sent off next Tues (16th) so please let me know ASAP.
Social
The committee are looking to organise a club social event. Ideas such as paintballing, chinese buffet, movie night at one of our houses are been put forward. If you have any thoughts, please see Angela.
Thank you again for all your ongoing support.