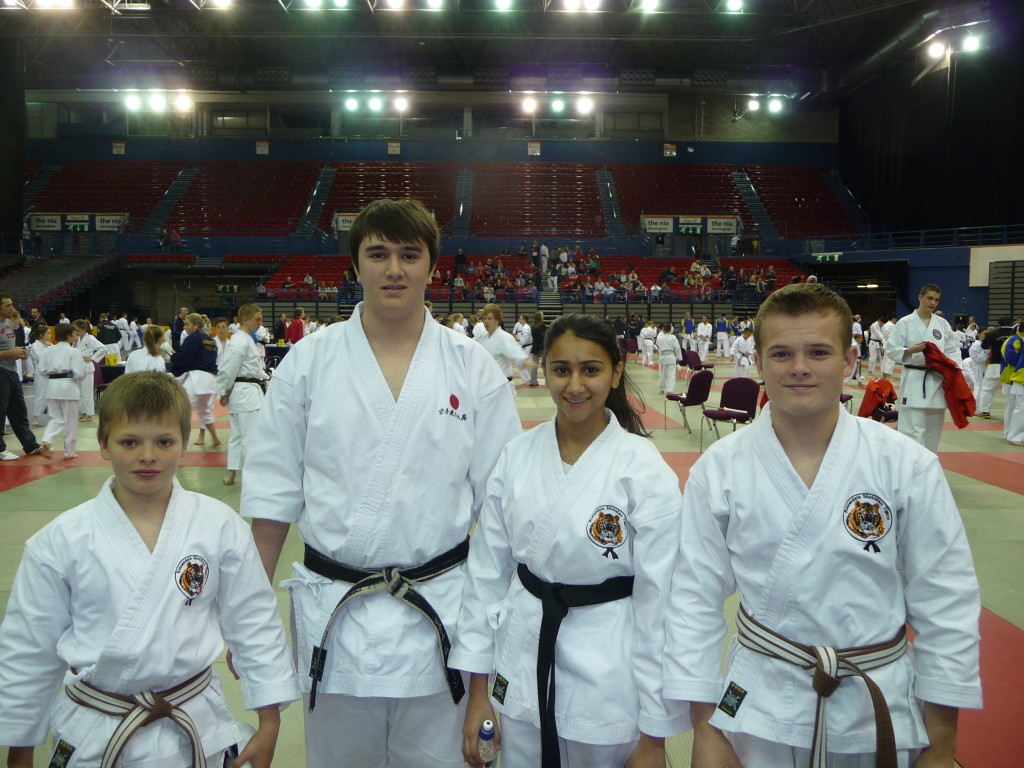 (L-R Joseph Harwood, Liam Stone, Fatima Munir, James Harwood)
Members of Rossendale Shotokan Karate Club (RSKC) Competition Squad set off from their HQ at Haslingden Primary School in high spirits to compete at the KUGB (Karate Union of Great Britain) British Championships at the NIA in Birmingham last Saturday 3rd May. This event attracted international fighters from England, Scotland, Ireland & Wales, and the squad made a highly credible showing in this, their first entry at the British Championships.Fatima Munir, 15 years old, performed extremely well in both the Kata and Kumite events, getting to the last 8 in Kata, losing to Scottish International, John Banks, in the quarter final.
Fatima also fought well, getting to the last 16 in the Girls' Kumite where she had a great fight against experienced fighter Niamh Duddridge from Ashington. Fatima took the lead early on in the bout with hard fast punching combinations. The girls had several clashes with fast punching and kicking combinations, which the judges gave as simultaneous scoring. In the last minute of the fight Niamh clinched an equaliser. So it was game on, with both girls showing great courage and ferocity in their clashes. With less than 5 seconds left both fighters again clashed with a blur of punches. The judges decided that both girls had scored but that Niamh's first punch had landed a split second before Fatima's. This was by far Niamh's hardest fight of the day as she won the quarter final, semi-final and the final easily to become the British Champion.
Team mates James (aged 15) and Joseph Harwood (aged 10) and Liam Stone (aged 15) were also on good form.
Liam fought well, beating one of the England squad members to reach the last 16. His last fight was a tale of two halves. The first half of the match Liam dominated the fight, taking an early lead. Being a little over-confident, Liam pressed home his attacks to try to clinch the match, only to give his opponent the chance to equalise. In the last 30 seconds Liam's inexperience got the better of him as again he chased the winning point leaving his defences open, giving his canny Irish opponent the one chance he needed to steal the match.
James Harwood was unfortunate on the day, losing his fight to a very experienced fighter who scored with a superb extremely fast round-house kick to James's head to gain Ippon (winning point) in the first few seconds of the match, so it was early bath for James.
Young Joseph Harwood showed great promise for the future, taking on bigger opponents in the 10-11 year old Boys' Kumite. Like his bigger team mates, he showed lots of spirit in his fights, sometimes a little too much, which earned him a warning for control in his last fight in which he was dominating his opponent. This caused Joseph to hold back, which then allowed his taller opponent to use his reach advantage to pinch the match. In Kata, again Joseph gave a good performance, finally losing to the eventual 3rd placed Erin Davis from Wales.
The Team members are now eager to enter the National Youth Championships in July. For further information visit the website www.rskc.org.uk or connect via Facebook www.facebook.com/RossendaleSKC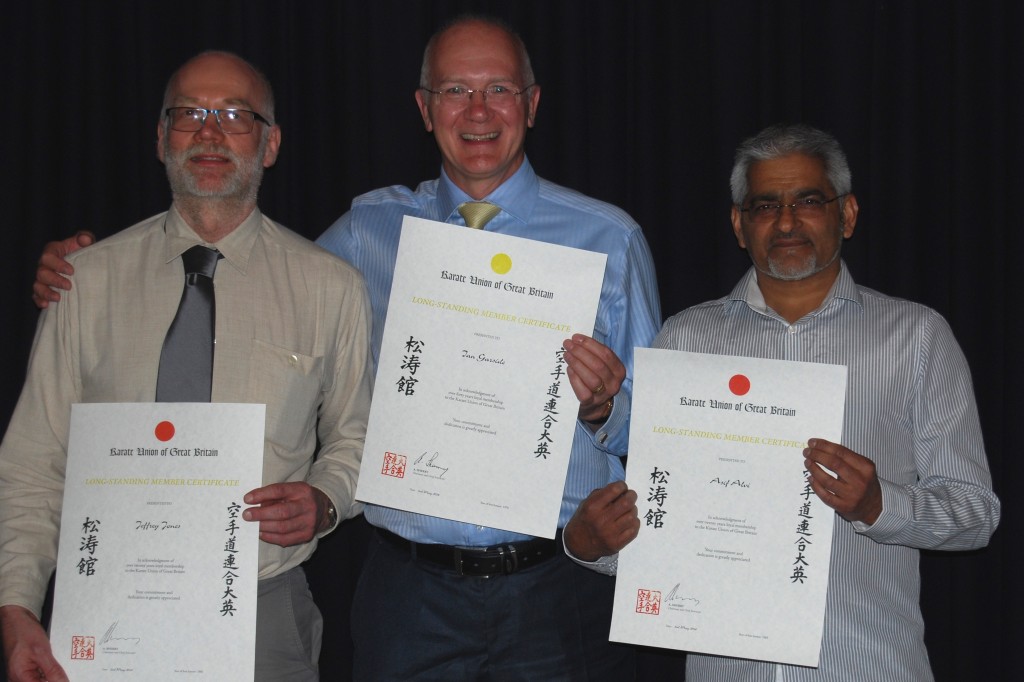 Photo (L-R Sensei Jeff Jones, Sensei Ian Garside, Sensei Asif Alvi)
At the recent KUGB (Karate Union of Great Britain) British National Championships at the NIA in Birmingham it was a very special day for three of Rossendale Shotokan Karate Club's (RSKC) Instructors as Senseis Jeff Jones, Asif Alvi (Club Chairman) and the Club's Chief Instructor, Ian Garside, were awarded their long service certificates for service to the Karate Union of Great Britain (KUGB) and to karate in Great Britain, by the world renowned Sensei Andy Sherry, 9th Dan, Chief Instructor to the KUGB.
Competitors and spectators alike cheered and loudly applauded them as Senseis Jeff Jones and Asif Alvi received their certificates for 20 years' service, and Sensei Ian Garside, 5th Dan, was awarded his certificate for 40 years long service. Together, the three senseis have over 80 years of great karate expertise at RSKC (www.rskc.org).