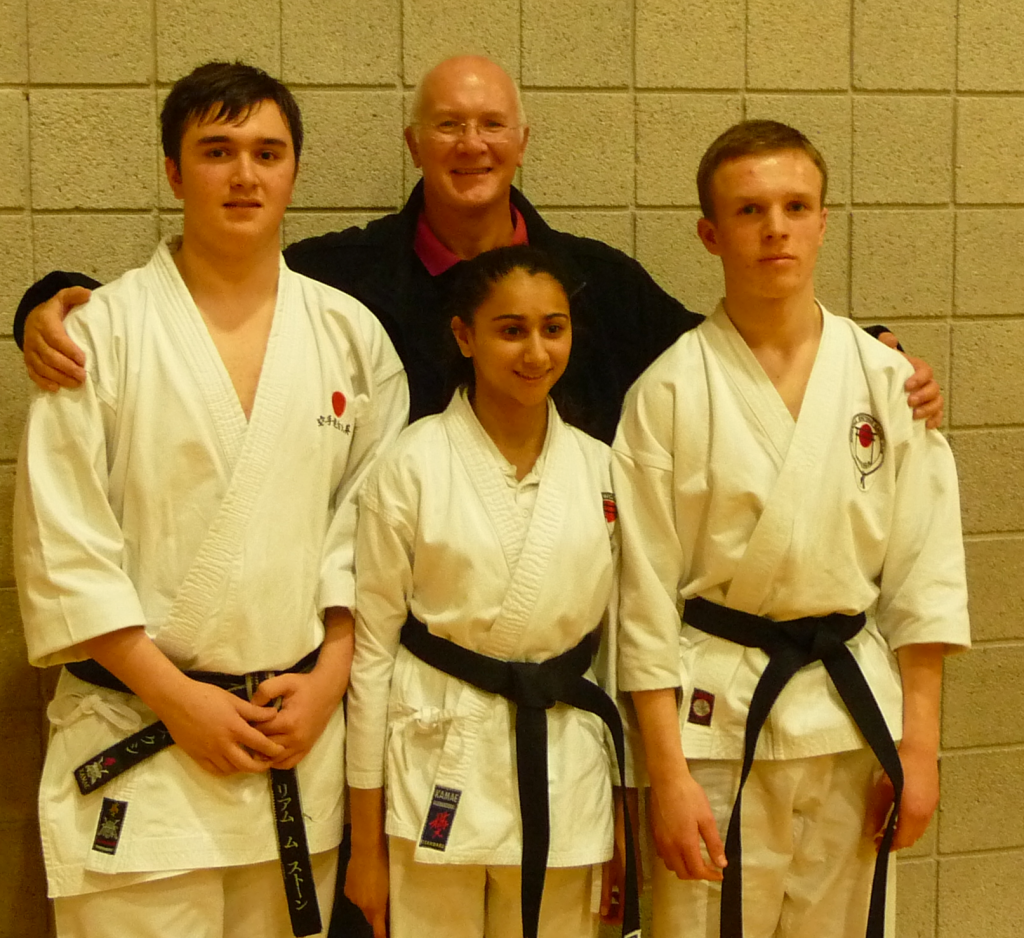 Front L-R, Liam Stone, Fatima Munir, Django Back. Rear Sensei Ian Garside 5th Dan
Fatima Munir, Django Back and Liam Stone made it a triple whammy for Rossendale Shotokan Karate Club, who are celebrating their 30th Anniversary this year. Fatima and Django became the latest 1st Dan Black Belts and Liam passed his 2nd Dan. Years of effort and dedication in preparation for their black belt grading were rewarded when they all took their grading at the Black Belt course held at Holywell on the 29th March.
The Grading followed a two hour training session in the morning with two of the UK's top karate instructors, Sensei Andy Sherry, 9th Dan and Sensei Billy Higgins, 8th Dan of the KUGB (Karate Union of Great Britain).
The training session involved basic techniques, free fighting and kata (form). Their hard work concluded with their First Dan and Second Dan grading, under the uncompromising eyes of Sensei Andy Sherry, the KUGB's 9th Dan chief instructor.
RSKC's Chief Instructor Sensei Ian Garside, 5th Dan, was watching on the day and had nothing but praise for his students:
"Everyone performed extremely well, and stood out amongst their peers. I was confident prior to the actual grading as all of them had performed extremely well when they passed the pre-grade I set for them prior to the grading. I was particularly pleased with their fighting as they all showed excellent spirit, even when fighting above their weight, as was the case with young Fatima. Liam had a little revenge, as his fight for his Second Dan grading was a re-match of the final of the North West Open where he came runner up in the Boys' Kumite. This time there was no doubt as to who was the winner, as Liam out-fought his opponent to clinch his 2nd Dan. They all truly earned their Black belts with all of the hard work and dedication they have shown throughout their training."
Having achieved their Dan grades, all three have started on their training for the National Championships which take place at the NIA in Birmingham on the 3rd May, when Sensei Garside will also be awarded a 40 years long service membership award from the KUGB.
Anyone wishing to take up karate can go along to any of the sessions in Bacup or Haslingden – contact Sensei Ian Garside on 01706 878795 for details or go to www.rskc.org .